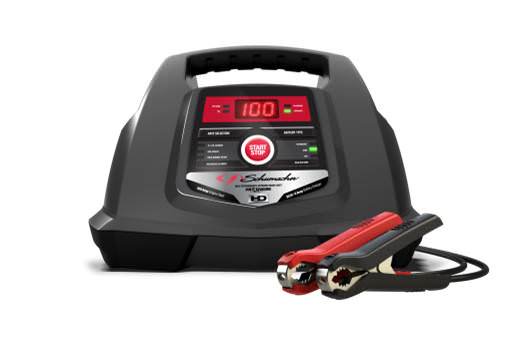 (image courtesy of Walmart)
Ah, the portable battery charger.  I love mine.  No cables to unravel, don't have to line up with the other vehicles battery.  Just set the clamps, positive to positive and negative to negative, and the dead battery will come to life.  It's convenient. I have used mine on numerous occasions to help fellow motorists with dead batteries.  All I have to do afterward is remember to bring into the house to re-charge it.
.  Days like today remind me that God's word re-charges unresponsive things as well.  I make it part of my morning to read from the Scriptures each day, but to be honest, I can't say my battery is charged to full capacity after every reading.  Thankfully, today is one such day that it is!  I was reading in Luke 6:6-11 how Jesus performed a healing of a man with a shriveled hand on the Sabbath Day.  The Sabbath Day was to be a day of rest, as commanded by God.  The issue at hand, pun intended, was how the religious leaders over time had twisted its meaning.  They were quite literal when they said, "no work can be done on the Sabbath."  Jesus, as He often did, showed them what the true meaning of something was.
Jesus healed the man, right in front of them, to help prove the point that doing good far outweighs the attempt to do nothing wrong.
The Pharisees and keepers of the Law were incensed that Jesus would do such a thing, and in the synagogue no less!  These dudes needed a jolt to their system, as I admit I must also from time to time.
Here's the problem as I see it: the religious types were totally focused on the wrong thing.  Their motivation was to do avoid doing anything wrong.  They were completely handcuffed by fear making it is much harder, if not impossible, to be doing intentional good. When your mind is pre-occupied on what man-made rules you might be breaking, the ability to move freely in other ways is compromised.
As I unhook the charging cables from my mental battery this morning, I sense in my spirit some of the peace that God promises all of us.  I find my mind has been freed (again) from the crippling fear of doing something wrong and instead reset to the place where I simply trust God to lead me where He wants me and to be ready to do what He would have me do.
Might I suggest, Dear Reader, that if your battery seems low on juice today, to go plug yourself into the source of energy that never runs dry, God's word.  He has made Himself available to us always and everywhere so that we can do this.  As you make your plans for this day, please bring that blessed charger along; you never know when you will need its boost!
Blessings,
Pastor Chuck