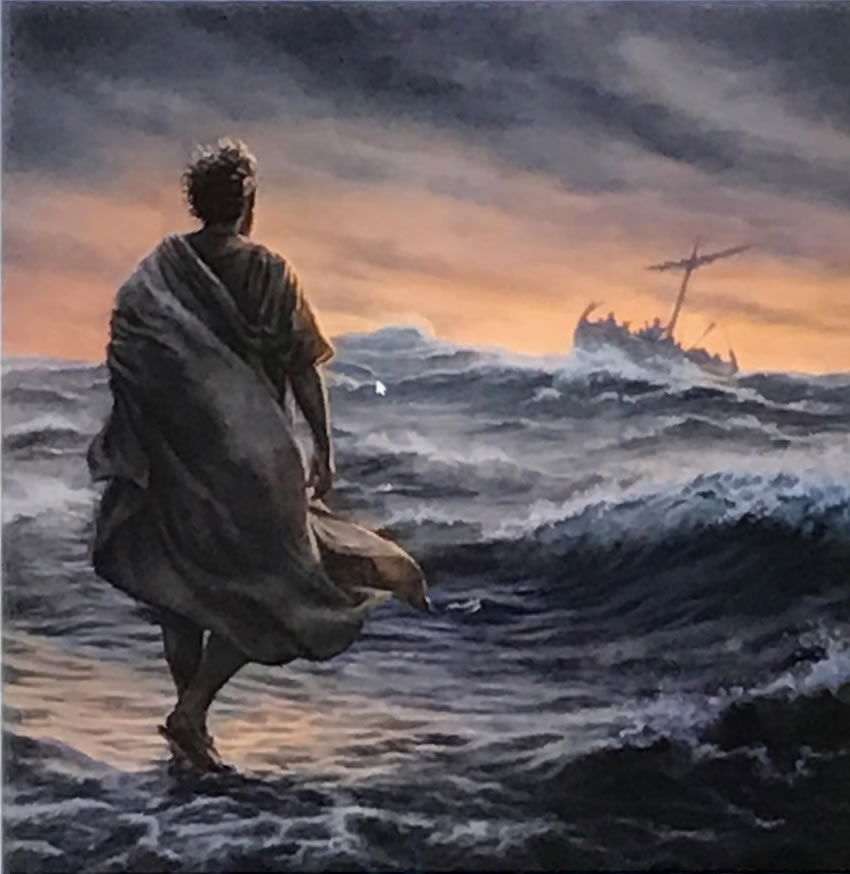 Two for One! Retailers of all sizes have been using this sales pitch for as long as I can remember. Reading those ads or hearing it on TV sounds so appealing: Simply pay the asking price for one item and receive a second one free (with the disclaimer: of equal or lesser value).
Back when dinosaurs roamed the earth and before mega malls squashed small family businesses, I managed a retail shoe store. We sold men's, women's and kids shoes. Twice a year we would run a 2 for 1 sale to move remaining inventory to make room for new. The sales gimmick would work to an extent, but folks with average size feet usually found the selection pretty well pick over.
But enough about shoes, let's turn our attention to the next of the miracles of Jesus found in John's gospel. As we do, we will actually find two miracles in Chapter 6, verses 16-21. A supernatural 2 for 1, if you will!
These events occur on the evening of the miracle of the loaves and fishes we looked at last time. After Jesus had miraculously fed 15,000 folks by multiplying five loaves of bread and two small fish, the Lord escaped from the crowd to the hills beyond. He did this because He knew that after seeing this miracle, the large crowd wanted to proclaim Him their king. Jesus, knowing this it was not yet time, went off by Himself.
Picking up the narrative at this point, we find the disciples have gotten into a boat without Jesus and were rowing to the other side of the lake, approximately five miles from where they left from.
The bible says that they had rowed for some time against a strong wind and were barely halfway across. The disciples are then frightened when they see someone walking toward them on the turbulent waters. I find no fault with the fear the twelve felt, for I am sure that had I been in that vessel with them, my fright meter would have been pegged as well.
Miracle number one then is Jesus walking on the water toward the boat His disciples were struggling in. Just hours before Jesus had fed 15,000 from a pitifully small basket of food, demonstrating His power over matter. Walking on water is evidence of the Lord's mastery over nature as well.
The second miracle occurs after Jesus gets into the boat with the disciples. Jesus first assures them who He is. Then they were willing to take him into the boat, and immediately the boat reached the shore where they were heading. (John 6:21 NIV). The second half of the journey across the Sea of Galilee ends in less than a wink of an eye as the boat is now safely ashore at their destination.
As I mentioned above, I find it quite easy to relate to the disciples. Even though they had now first-had experience with the power Jesus displayed, their circumstances in life still somehow diverted their attention from God to their immediate trouble. I do not have time or room to mention the countless times I have done the same.
Praise God He is patient with us all! Jesus doesn't reprimand them for a lack of faith, He just joins them in the struggle and safely brings them to the other side.
The lesson I glean from this today to share with you, Most Precious Reader, is this: Do not get into the boat without having invited Jesus to go with you! Though I do not have any boating plans today, I will be going about many of my usual activities. Granted, most of these are fairly routine. But experience tells me that if I go off without acknowledging my need to have Jesus with me even during the mundane, surprises can upset my apple cart. Also, If I charge off on my own, I am less likely to see the 'God moments' that happen around me. What I might shake off as random encounters may well have been opportunities to share in some way the goodness of God. Simply taking the time to ask the Lord to be with me in my daily journey helps my spirit to stay better in tune with His. Perhaps the greatest blessing from this comes in those times when I am consciously aware of the presence of Jesus, the storms of my life do not seem to seriously rock the boat I am in.
This 2 for 1 with Jesus will never have you missing out on your size and more importantly, you will find that the bill you owe has already and eternally been paid by Him.
Thanks for reading,
Pastor Chuck