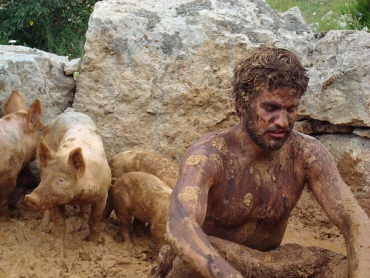 (image courtesy of hbomax.com)
I recently had the opportunity to preach a sermon based on the well known parable that Jesus taught of the prodigal son. (You can read it in Luke 15:11-31)
I have heard and now have spoken about this many times. Often the focus is on the younger (prodigal) son, who demands his part of his father's inheritance to then only squander it.
The older son gets some attention at times as well. He sees himself as the unappreciated, hard working and loyal offspring who does all that he is supposed to do, but doesn't seem to derive any enjoyment in doing so.
The father in the parable represents God. Again, much has been spoken about the loving forgiveness he displays as he welcomes his once 'dead' son back into the family. There is a wealth of wonderful teachings about God's unconditional love for all contained within this story.
Any or all of the above would have served me well for my recent presentation. But as I thought, prayed, and did my study, I landed on an area I had not heard brought forth from this old account.
Those of you familiar with the prodigal son know that during a time of great desperation after his funds were completley depleted, he takes on the job of a swineherder, possibly the most repugnant thing a Jewish male could do during that time. And even though he has debased himself in this way, he is still starving.
It is at this point in the story that Jesus said, "He longed to fill his stomach with the pods the pigs were eating, but no one gave him anything." As I thought about the people who would have been passing this young man by, I began to see another place we can learn from Jesus as we ponder this famous account.
This young man was in obvious distress. I think the picture at the top shows this quite well. How, I want to think jugmentally, could people be so cold and uncaring? I understand from reading the text that there was a severe famine in the land. This tells me there wasn't an abundance available to share. But no one gave him anything?
Upon further reflection, as I stepped down from my high horse, I began to see with more clarity the possible motivations of those who passed the prodigal by; and in so doing discovered some not so pleasant truths abut myself and how I think/react when confronted with the needs of others.
First, self-preservation. I have barely enough for me and mine, I couldn't possibly share anything. This is shamefully selfish thinking in my context today. I never have to wonder where and when my next meal is coming from. I need to live into this blessing of God to be ever more willing to share from what God has first given me. God has proved faithful in every circumstance, I can certainly trust that to continue should I give some money or other items to someone in need.
But more disturbing than that first thought is the judgment that wants to rear its ugly head in my head. Thoughts like, "He probably deserves what he is experiencing" is one that pops up. Or, "if he would only apply himself, he could make improvements in his life situation."
Maybe as you consider this, some other thoughts come to your mind. If they do, please know that neither I or anyone condemn you for them. God's grace and forgiveness is big enough for all!
What I am asking, of myself and you too, Dear Reader, is to take that extra moment when you are confronted with an obvious need of someone and in so doing, consider just what you might do in that moment to help alleviate someone's trouble. There are countless ways we can do so in each of our own context. And hopefully as we act to help in an individual case, we might all be working toward ways to eliminate the social ills that can leave people in such vulnerable positions in the first place.
Be blessed and be a blessing,
Pastor Chuck