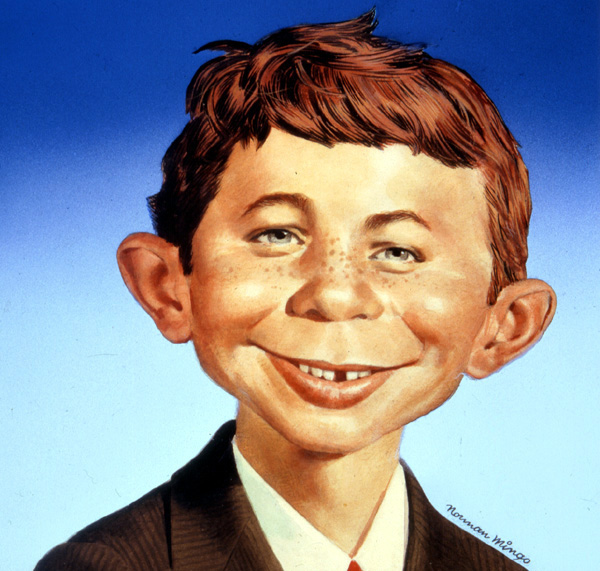 (image courtesy of jokes-battles.wikia.com)
Many of my generation grew up reading Mad magazine. Therefore the iconic face of Alfred E. Neuman was not only easily recognized, many of us tried to play the part of being care-free about everything. Never much of an actor, I was not particularly good at hiding my worries.
Looking back, I realize that my worries were for the most part shared by my friends, we just wouldn't show the weakness of uncertainty in front of each other. Hindsight has also revealed to me that my worries were quite similar to those of my adolescent peers: Girls, popularity, making money, getting a car, etc. Worrying about things seemed as natural as any other aspect of growing up.
I actually developed a much greater conflict over my worries once I became a Christian. I began to read the Bible and in so doing came across verses such as: Cast all your cares on the Lord and he will sustain you; he will never let the righteous fall. (Psalm 55:22) and, When I am afraid, I will trust in you (Psalm 56:3).
I had naively assumed that once I had broken with my past life of debauchery to try my best to follow Jesus and His teachings, life would become a utopia. The worries of life, many of which still kept me awake at night, were going to simply melt away as bliss dominated my existence.
As the days of being a Christian turned into months and then years, my worries still far outweighed any times of care-free life. Oh, I had learned to put the brave face on, or maybe it was the smiling face of my childhood buddy Alfred E., when asked how things were in my life. But inside, the worries of providing for my family and how to be a good husband and dad were constant companions.
Thankfully, God knows me better than I do myself and His faithfulness knows no bounds. He continued to put caring people into my life who helped me, through the instruction of example, that living life with the confidence of God's care and protection was possible.
My wife, Betsy, took the lead in helping me. Her calm demeanor was a direct result of her practicing her faith daily. Her long-term daily reading of the Scriptures opened up her heart and mind to the goodness of the Lord, and she lived it right in front of me, as she does to this day.
Eventually, I took up the practice of daily Bible reading. God, knowing that I am often a slow learner, has taken His time with me as I spent time in His word. The passage of Scripture that continues to help me with my tendency to worry first, pray later is found in the Apostle Paul's letter to the Philippians:
Do not be anxious about anything, but in everything, by prayer and petition, with thanksgiving, present your requests to God. 7 And the peace of God, which transcends all understanding, will guard your hearts and your minds in Christ Jesus (Philippians 4:6-7 NIV).
Clearly, God wants me/us to take everything to Him in prayer, not just the needs and emergencies that tend to crop up. The instruction to not be anxious about anything is virtually impossible to perfect, but we can more than counter that by continually going to the Almighty. The direction to do this with thanksgiving also quiets my worries. When I remember to be thankful to God, much of the urgency or unmanageability of a situation lessens.
The next promise that our faithful God fulfills when we humbly come before Him expressing our needs and desires, is to guard our hearts and minds. The original Greek word translated guard carries with it a sense of shielding one from trouble. Because it is God who does the shielding, this becomes so much more than merely deflecting a problem away. In His divine providence, God will literally shield our minds from dwelling on an issue, which in turns allows us to come to the realization that He has protected us. This level of trust in our loving God helps us to not want to bury our heads in the sand hoping things will change, but rather to seek the shelter that His loving arms can provide.
As with most everything I attempt, I find keeping one of the ideas from Alcoholics Anonymous in the forefront of my mind helps: to seek progress, not perfection. I still find myself worrying over things and projecting negative outcomes that rarely come about. The progress I've made is that I fall into this trap far less often than I used to.
So Alfred E., like you I really do not have to worry and blessedly, being that I'm real and you are a cartoon caricature, I can keep turning to this Awesome God who daily invites me to travel through life with Him. By taking Him up on this invitation, I can know that my heart and mind are protected by Him as He gives me a peace I will never understand this side of heaven. Not to worry, everything will be revealed on the other side!
Blessings and thanks for reading,
Pastor Chuck